The late summer sun shines on Michigan and as we sit outside and eat meals in the open air and dappled light, I'm taken back to the French countryside we visited one year ago. We began our journey in the tiny town of Lagnes. It wasn't a place any of us had heard of and was not on any tourist websites or guides. It did, however, have what we wanted… charm and quiet in a small town surrounded by the fields of Provence.
I fell in love with our place due to its colorful rooms, exposed beam ceiling, soft green rustic shutters and arched entryway. It was such a cheerful space to come home to after our days of exploring the area.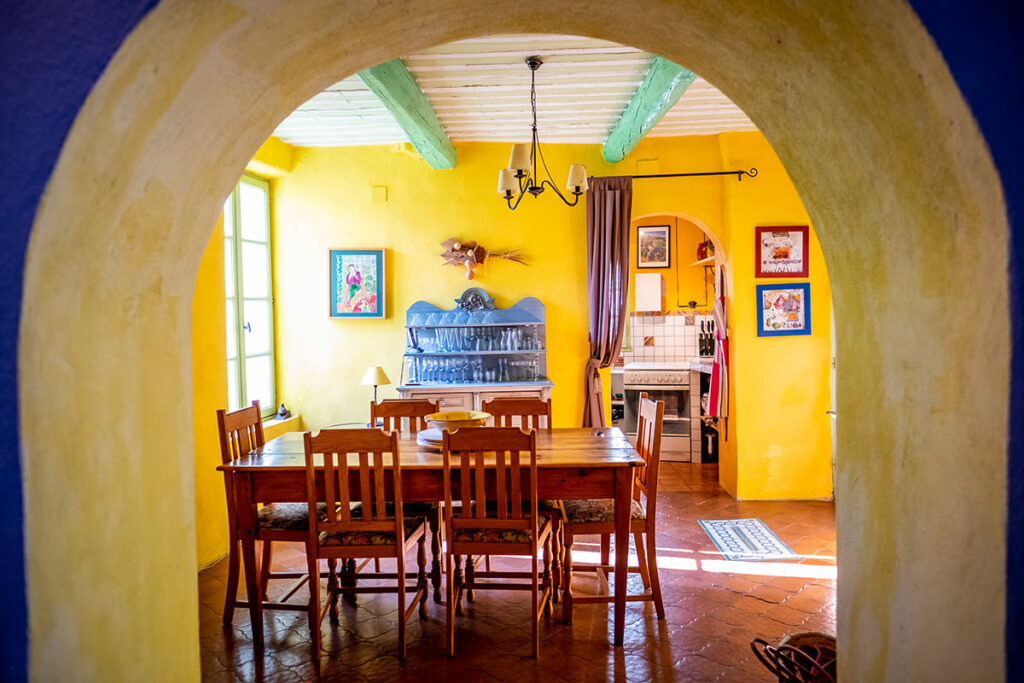 The house was on a winding, pedestrian only pathway that went through the town and uphill to ancient ruins of a XIII century chateau. Lights shown upward through the path at night, making it a charming place to stroll in the evening and colorful beams lit the castle at the very top giving the town a medieval spark of interest in the night.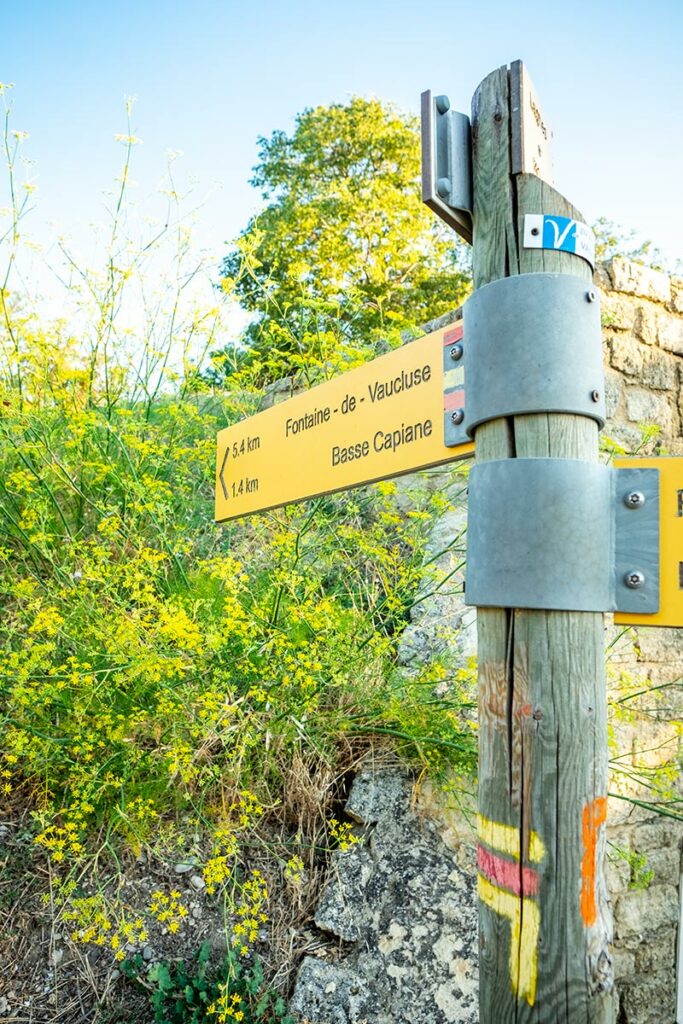 Marked hiking trails led out of town and through the fields. A coffee shop sold fresh croissants and bread in the mornings, while nearby bells rang from the church. The one restaurant that served dinner in Lagnes, Auberge de Lagnes, supplied one of the best meals we had while in France. We also discovered a tucked away pizzeria with candlelit outdoor seating that became a favorite as well.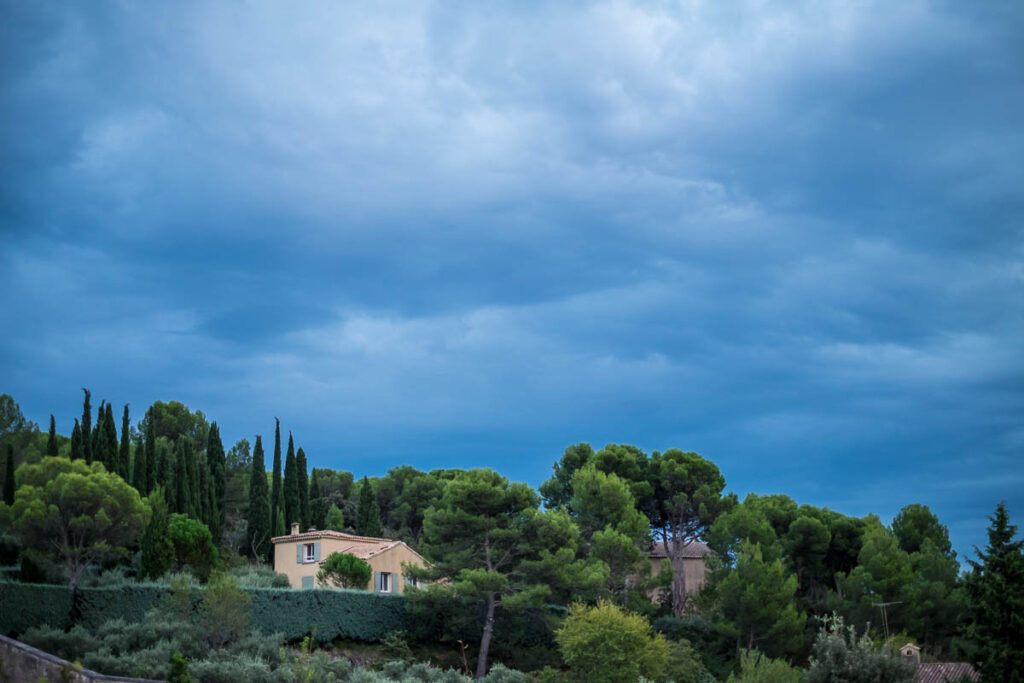 I remember our dinner at Auberge de Lagnes fondly, as it came after an almost 20 hour travel day with flight and driving. We were both exhausted and elated to finally be in France and no one had the energy to cook. In the weeks before we came, I had made flash cards of French words for us all, to help with the language. My parents studied them on the plane but their efforts went out the window immediately upon arrival. For our first meal, I had white fish drizzled with delectable sauce floating on potatoes resting beneath. Kasen had beef he claimed was the best he ever had.
When the server came to ask how it was, I happily exclaimed, "Délicieux!" in French. Kasen said "Magnifiq!", and my mom smiled and said, "Bien!". When it came to my dad for a response, the server was into our attempts and asked for his French word. My dad sat there for a long pause and finally said in a clear deep voice, "It was very good", in English, to which we all laughed. We had so much fun with the language throughout the trip, Kasen often putting on a comical and too heavy French accent at times. When we were lost once I took on the accent claiming, "I do not KNOW where we ARE, I am stoopid Américaine!" We had a good laugh and eventually found our way. I will say, that all the stereotypes of the French being rude or unfriendly to tourists, quickly were banished as every French person we encountered was nice to us, even when we fumbled their language with a smile.
Our special place to relax each afternoon was our terrace. A private, two-tiered stone terrace was just outside our front door. We'd drink wine at a little metal cafe table next to olive trees and for sunset walk up a stairway to watch the orange glow over Provence. As the last bits of sun washed the sky in a deep pink and crimson, that feeling of savoring each moment would settle in and then we'd all go to bed falling fast asleep waking refreshed for each new day in France.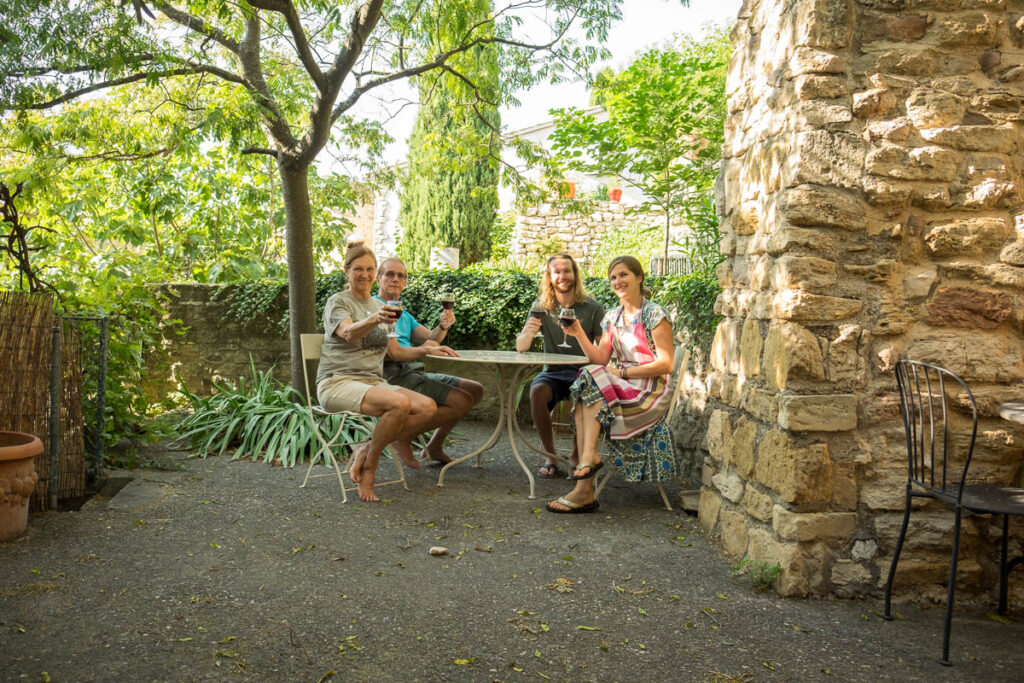 You won't find a single tourist shop in Lagnes, just kids playing outside at recess, neighbors laughing at the cafe and a few locals walking their dogs occasionally. It was a great place to explore Provence from, as most of the area's attractions were within 30 minutes from the town. We even drove a little further one day to see the famous Pont du Gard, the great aqueducts built by the Romans, which were only one hour away.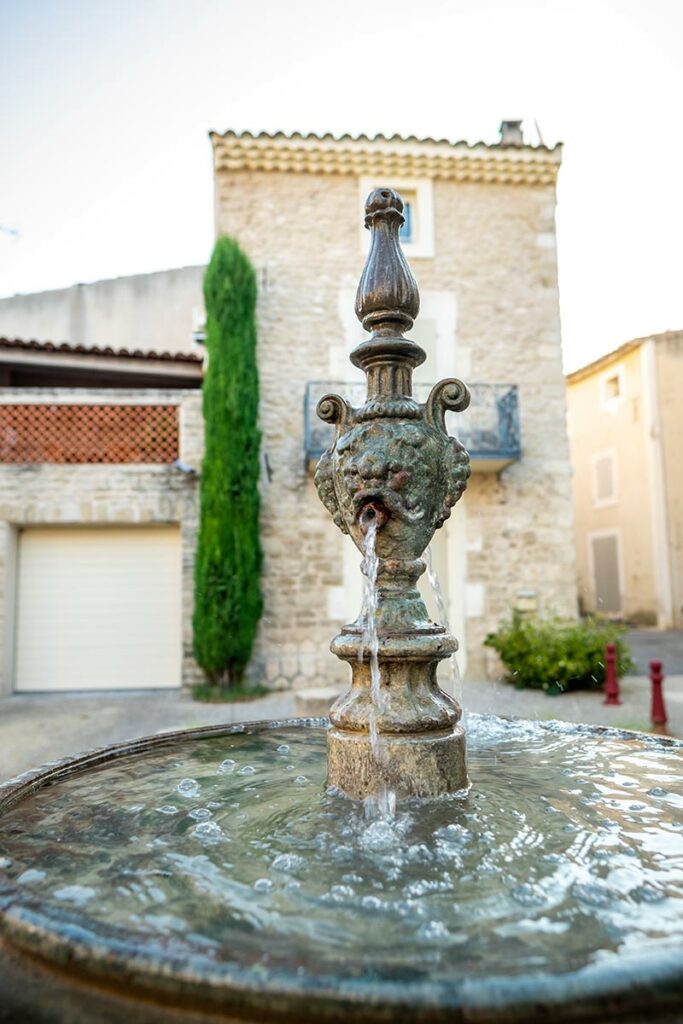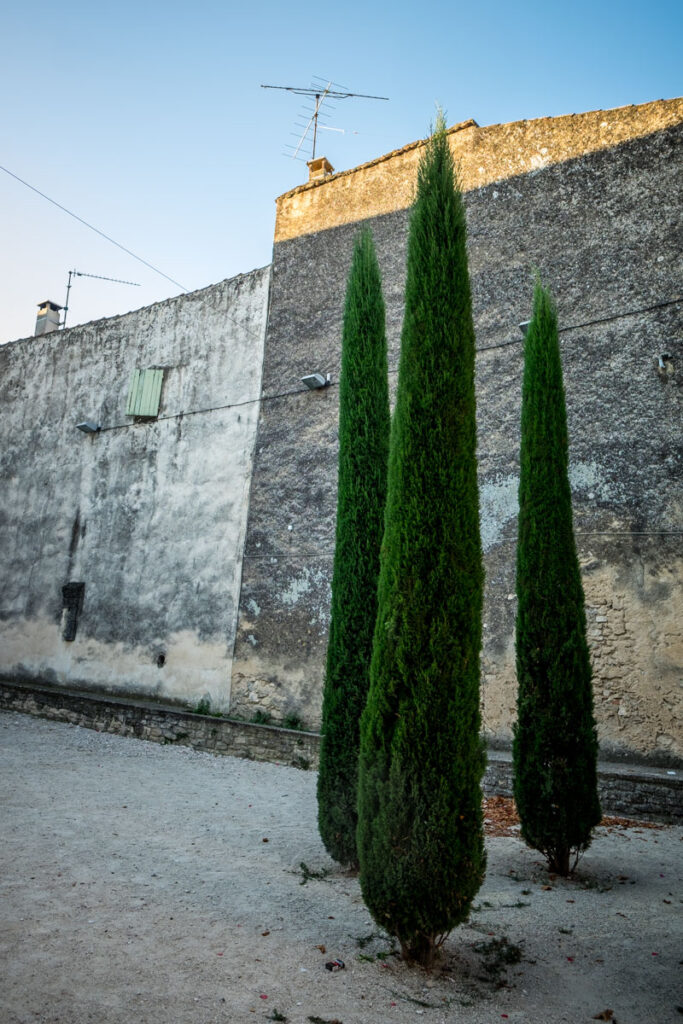 The towns in Provence we visited were:
Roussillon with its famous red cliffs and buildings of the same color.

Dramatic Les Beaux, that rises from a rocky outcrop and has an ancient stone fortress to explore. This town is also home to the Carrières de Lumières light show, a spectacle of light and sound in an old quarry and not to be missed.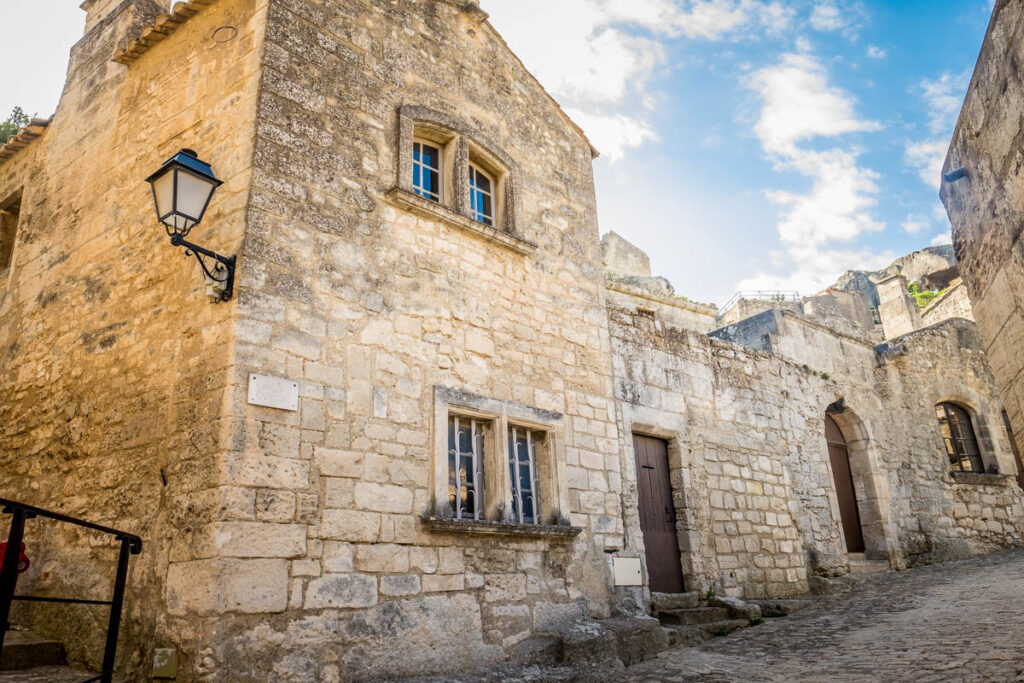 Delightful Gordes, the quintessential pretty French town that exudes charm with its winding cobblestone paths and flowering vines trimming every stone wall. We loved it so much we visited it twice.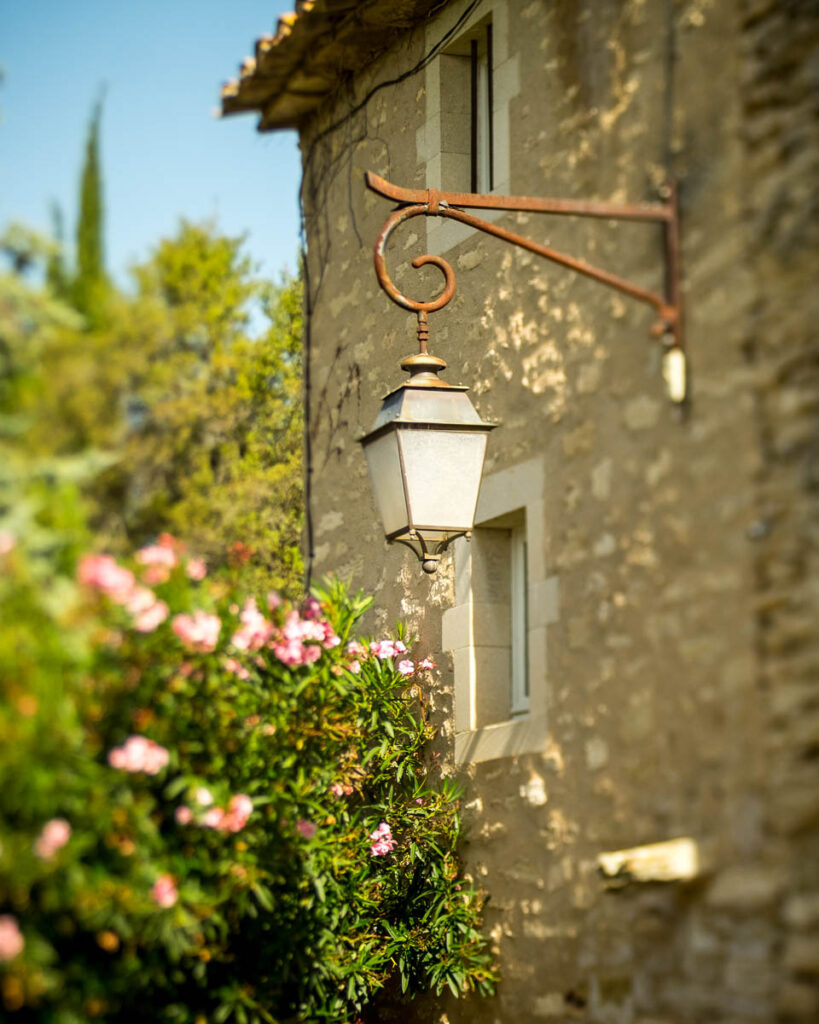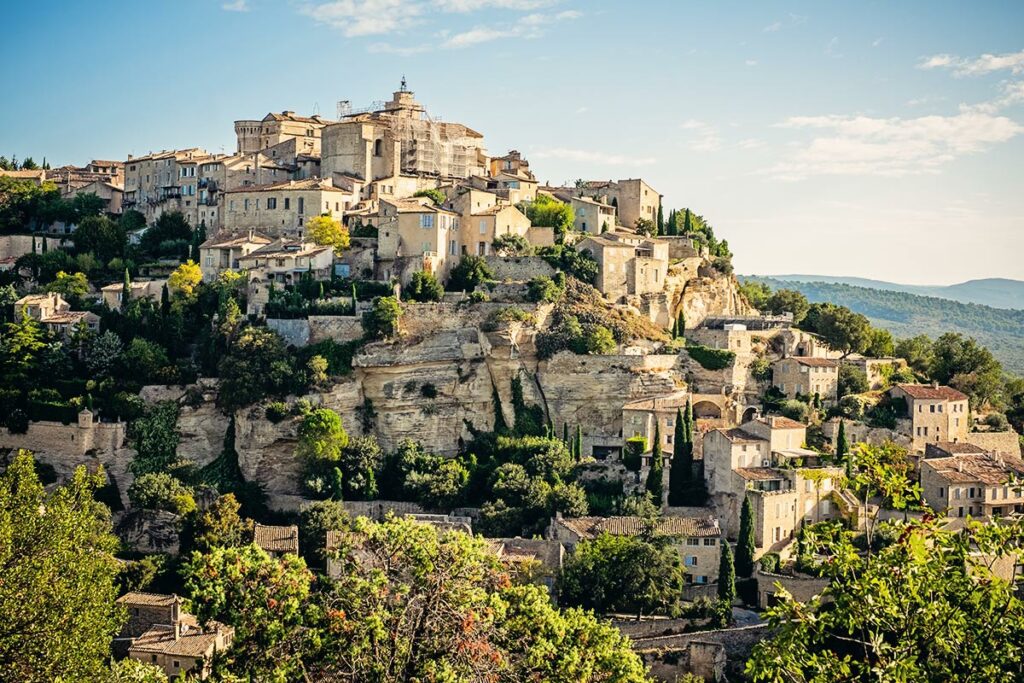 The island city of L'Isle-sur-la-Sorgue known for its canals and waterwheels, as well as its plentiful antique shops and market. Not only is this town lovely, but it was also more functional than most. It had the nearest grocery store and had more of a livable local vibe to it. We visited here a few times during our stay.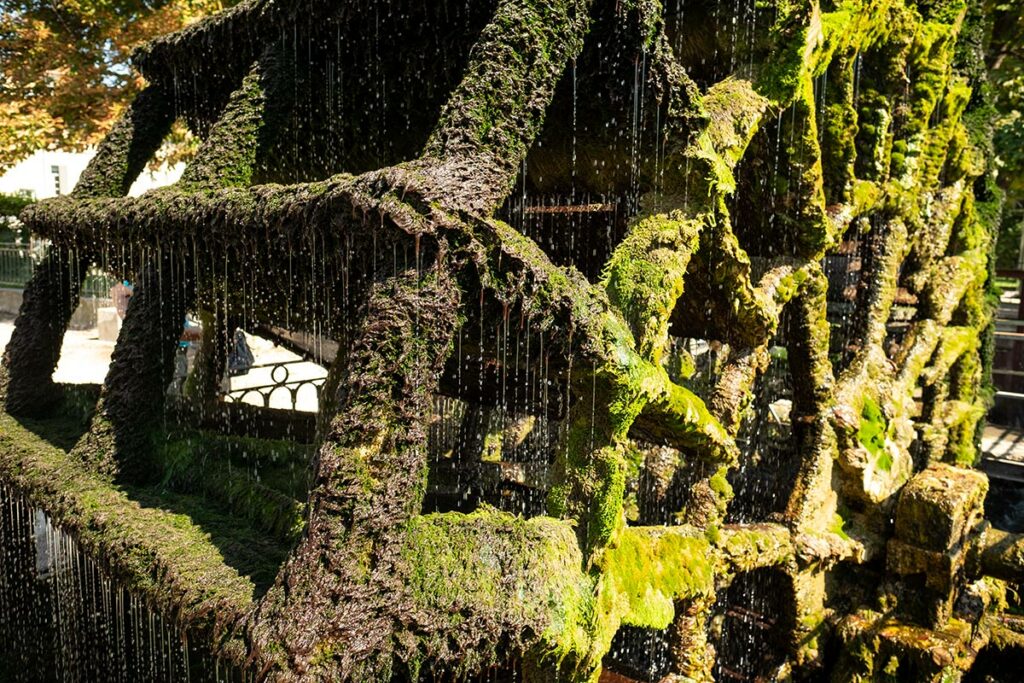 Lastly, Fontaine in Vaucluse, a tiny scenic town resting along a river and nestled under tall cliffs.
It's very hard to pick a favorite out of these places as each had a very distinct charm about it. Gordes would probably be mine, as it captured all I imagined a countryside town in France to be. Kasen loved Les Beaux because he had never seen a castle before and raced around to each corner of the fortress. My parents, the shoppers of the group, loved L'Isle-sur-la-Sorgue for all its stores and antiques.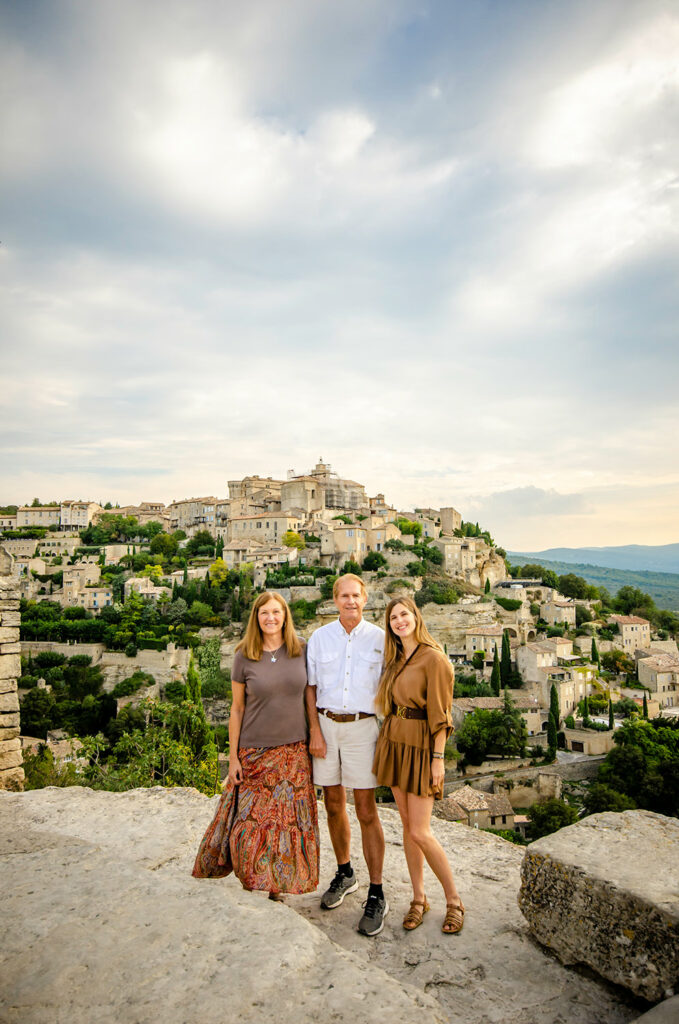 We spent a week exploring the countryside Provence, mostly in the Vaucluse area. We drove along its windy roads, stopped for fresh fruit at markets, wandered small city streets and clung to the sweet moments in life. When we first arrived, we felt we had ample time left for the area and it seemed time stretched lazily before us in slow motion. Then, as the days started to pass into memory, we clung to our present not wishing to leave.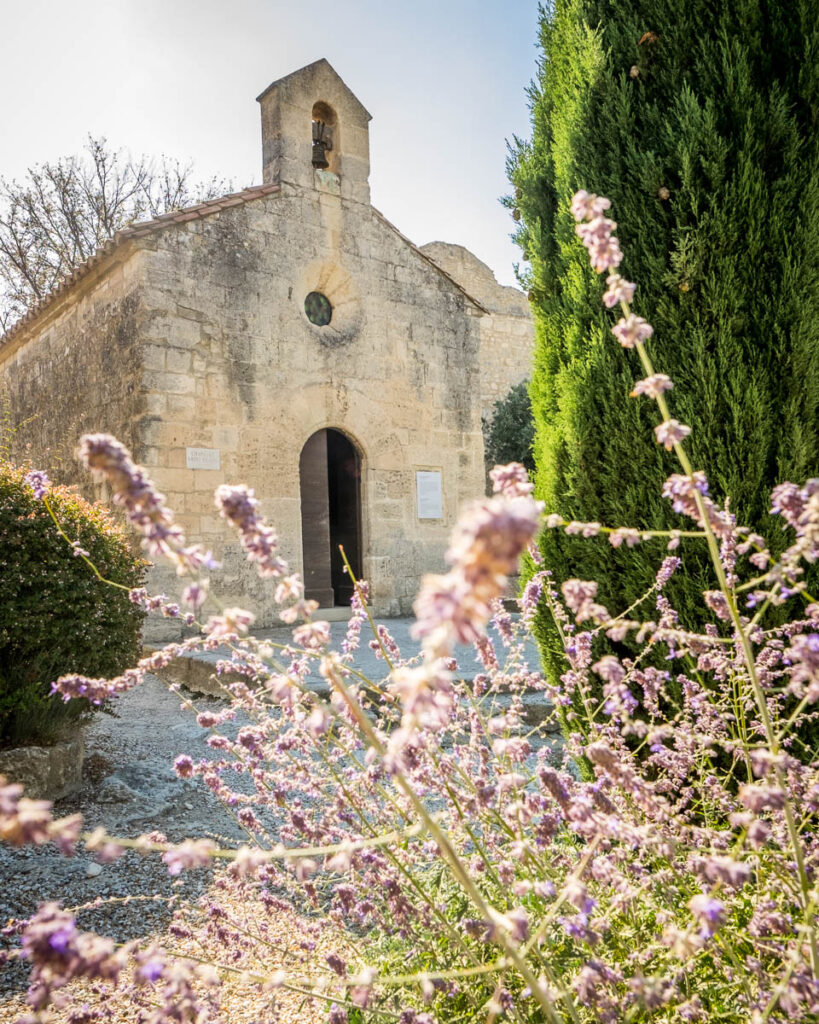 We had Dordogne and Paris yet to see, so we were able to part from Provence at last, but it was the heart of our trip and one we reminisce about often, especially when the summer light shines just right back home.
Helpful Information:
Where we stayed – We rented a colorful and comfortable home through VRBO in Lagnes. You can find it here. Be sure to enjoy the terrace and take a hike on the hill behind the church in town for great sunset views.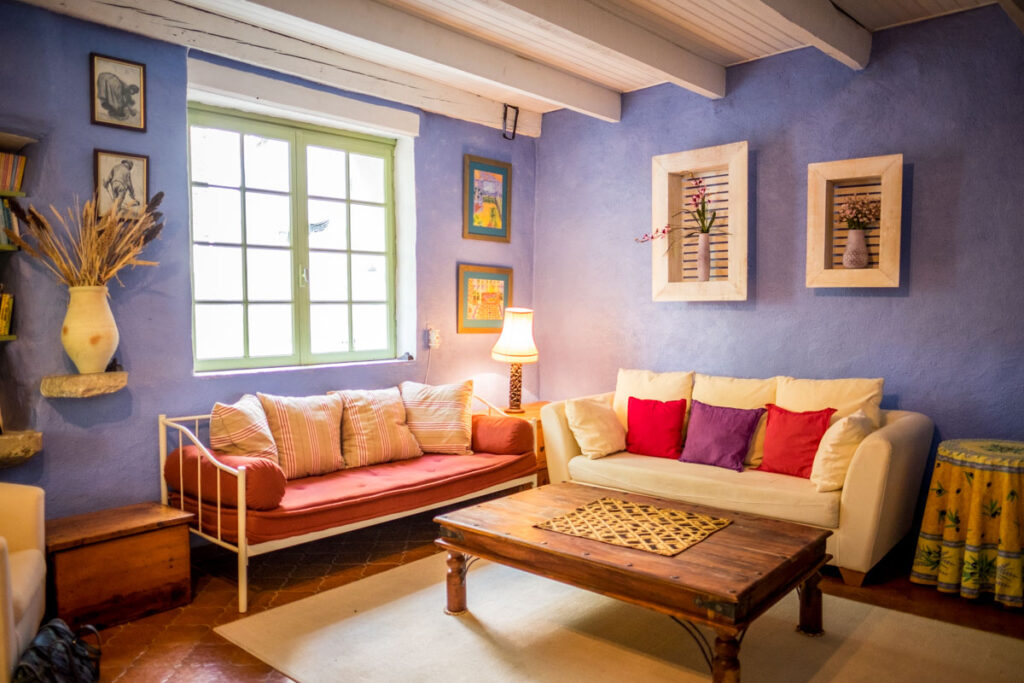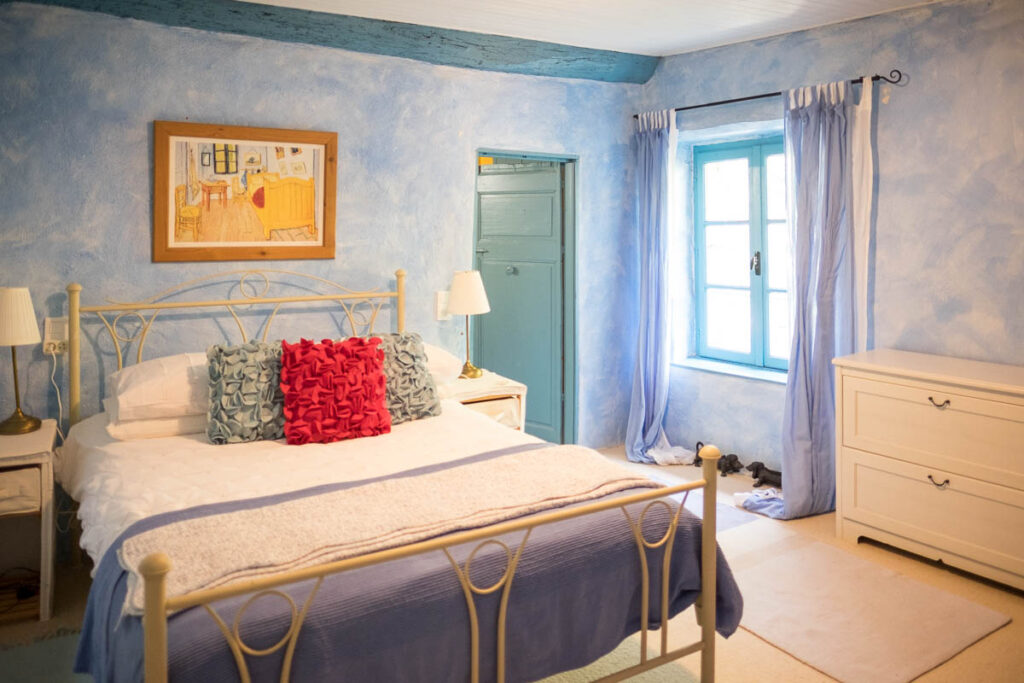 Mind your time – Remember most shops close in the afternoon from noon – 2:00PM. It's best to arrive in villages early (especially for photos) then take a afternoon siesta to recoup for round two later in the day.