When I first drove to Golden Bay, my rental car heaved up the mountainous and winding road seeming to head off into the sky. Then another turn would take me higher, at times making me dizzy. Blue skies were the destination up above and soon white feathery clouds were passing me by. It seemed to take ages, but finally a descent took me down into the area of Golden Bay. Green hills and teal waters spread out before me. Small stretches of colorful beach houses with flowers out front and weathered mailboxes lined the coast. It felt like endless summer and barefoot walks on the sand awaited.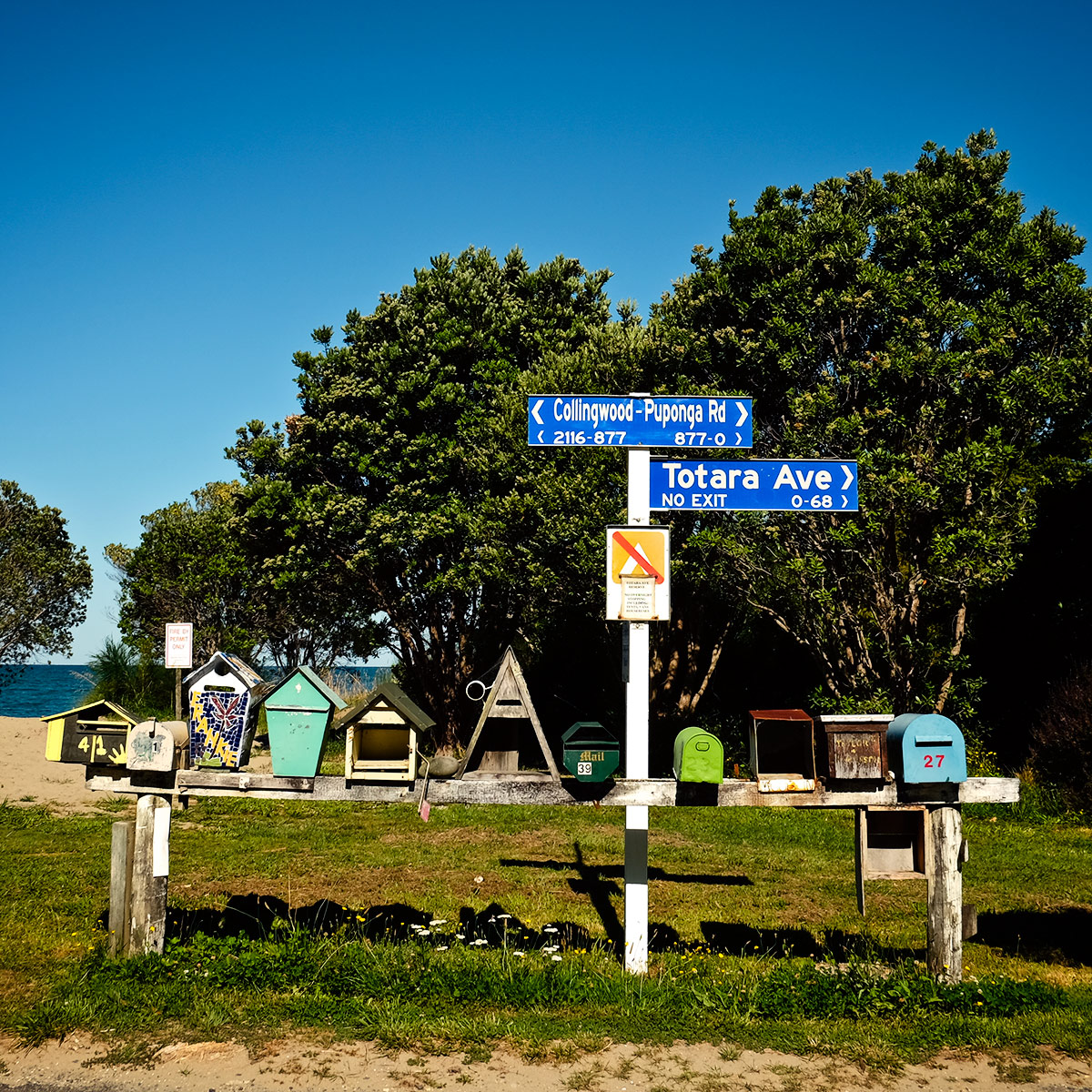 One thing that made my time here so nice, was the farm I stayed at just outside of the town of Takaka. It was a place of horse filled pastures, vegetable gardens in full bloom, and dirt paths that led down to the sea. The same paths at night were lit by the amazing star-filled night sky and the curious glow worms that New Zealand is famous for. The worms shine like little green LED lights in the dark, providing a bit of magic on evening walks. The house was a comfy, cozy place to relax and each room is painted with colorful horse murals. A memorable moment for me was riding a horse, not for the first time, but for the first time unafraid. This was due to the owner Baerbel. Her horse-whisperer-like love of the animals and her skill at explaining everything in a way that made sense put me at ease. I was soon riding along the beach and into the sea with my horse Song. She loved the water, stomping her front hoof into the waves. They were a wonderful family to stay with, sharing stories and opening their home to me.
I came to the area to explore the nearby Able Tasman National Park and ended up finding other things to see right around where I was staying. I never made it to the park, but felt more than satisfied by all I found in the area. I explored caves, saw the sunrise on the most beautiful beach, ate homemade chocolates, viewed crystal clear springs, walked through a grove of rock formations, and wandered the colorful nearby town of Takaka. I felt like I found the perfect summer getaway and relaxed into every day. The sun warmed my afternoons, sand filled my shoes and the wind tangled my hair. I probably could have stayed longer and instantly wondered if I should. Then again I thought, what if the next place is like this or even better? The next destination was beckoning, so I ended up moving on with a little twinge of sadness. Golden Bay, you stole my heart.
Helpful Information:
How to get around: I recommend renting a car for this area. There are a lot of special, scenic spots to visit and a tour bus will not get you to them.
Where I stayed –  I stayed at Hack 'n Stay, a farm just outside of Takaka. They have both individual and dorm room style bedrooms in their farmhouse. The rooms are super spacious, comfortable and I felt like I was at home. If you have a horse, you can bring it along too! They also provide horseback riding.
What to do – Visit Rawhiti Cave, The Grove, and Wharariki Beach. All of these are beautiful outings. Wharariki Beach being one of my favorite spots in all of New Zealand. Takaka is also a cute little town to visit with colorful shops and cafes. Indulge your sweet tooth at The Rosy Glow Chocolate House in Collingwood. There are many more places to see while here, these are only a few. Grab a local map and start exploring!